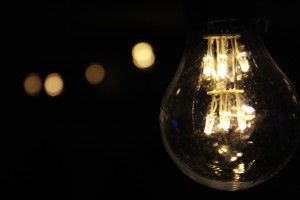 Security lighting can undoubtedly deter burglars. Research has shown that burglars are much more likely to target an unlit property than a house with outdoor lighting, meaning that you and your family feel safe and protected.
Many homes are fitted with a simple floodlight with a sensor, however these can easily become mis-aligned and are are very often triggered unnecessarily. Ambient electrical services recommends dawn-to-dusk lighting for a commercial premises and PIR sensor lighting for domestic properties, working with energy saving light fittings.  The dawn-to-dusk sensor works with the amount of light in its environment. The light will turn on as it gets dark and remain on until dawn, keeping you protected through the night and saving you energy. The PIR sensor lighting will pick movement and switch on the Security lighting.
I am happy to design a fully integrated system to fit your needs whatever the size of your property and will discuss in full your requirements to leave your property will lit and safe.